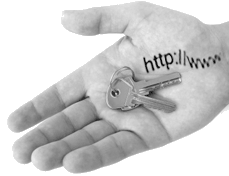 In our 14 years of operating a full service Internet Solutions company, we've provided client support on a wide range of website related topics.
We've compiled a list of some technical points that often confuse new and inexperienced website owners. Not understanding or paying attention to these topics regularly cause websites (and Email) to become unreachable. Don't let this happen to you!
We refer to these as "the keys to your car." You can let anyone you choose drive it but ultimately, you're responsible for everything about it, since it is your car.
No matter if you already have a website or are thinking about getting one, these points are important to know and understand.
Don't let your domain name or Web hosting expire because of negligence!
Domain Names
Know the domain name(s) you've registered
(All of them if you have more than 1)
Know your domain name registrar(s)
(LA Servers, Network Solutions, Godaddy, etc)
Know what contact email addresses are listed in your domain NIC record
(for renewal notices. Click here to see your domain's NIC record)

Make sure the Email address listed in all your accounts is one YOU check, not an employee that may leave the company sometime.

Creating a unique email alias like "domainadmin@yourdomainname.com" to use on all domain names works well in this situation.

Make extra sure that YOU own your domain name and not a former shady Web designer or the like. Check up on your domain name using our Whois Tool.

NOTE: If your domain name expires, your Email and website will cease to work even though your Web hosting account is still active. If your domain can't resolve to your host's network, everything fails.

Know your Domain Manager login
(the URL, login and password)
Understand that domain names and Web hosting accounts are 2 separate entities
(and thus are normally billed separately)
If your domain name has an outdated email address associated with it, you won't receive renewal notifications and expiration will occur.
If you don't want to keep a domain name, login to your domain manager, turn off automatic renewal and let it expire.
Web Hosting Accounts
Know what company hosts your website
Know your Web hosting control panel login
(URL, login and password)
Know your FTP login
(host, login and password)
Know your Webmail login
(URL, login and password)
Email whitelist your registrar and Web host's contact email addresses
(to insure you receive renewal notices etc from them)
ALWAYS use an email address @ YOUR domain name, not your ISP email address
(AOL, Earthlink, Roadrunner etc) You'll always have and check your domain name email even if you change ISPs.
NOTE: You may will receive fake domain name renewals from shady registrars via Email as well as snail mail. Many people get tricked into transferring their domain name to a different registrar because they don't know who their domain registrar is. Don't fall for this!
Understand that Web hosting is a Service
(register to receive, cancel to discontinue)
Similar to home utilities, Web hosting is a Service.
If you move to a new house and don't cancel the power at your old house, you get charged for it anyway. The service was provided even if you didn't use it since there was no cancellation.
Understand that switching Web hosting companies does not cancel your previous hosting account
If you switch Web hosts, login to your old host's control panel and cancel your account. This action ONLY will let them know not to bill you any longer.
Summary and Reminders
Add your domain registrar and Web host to your list of services that automatically renew.
Email whitelist your domain registrar and Web host's contact email addresses
Keep your credit card and contact information up to date so no services expire. Just like your utilities.
Use your domain manager and Web hosting control panel! These are provided to you as a convenience and control every aspect of your account(s).
Use our Whois Tool to view your domain's owner, registrar, contacts, renewal date and more.
All this information may sound confusing to a new or inexperienced website owner. But understanding these concepts will insure that your website will never vanish because of negligence!
Tags: domain manager, Domain Names, domain registrar, NIC record, Success, Web Hosting, Whois